EMS Care EMR Chapter – E15 | Caring for Common Medical Emergencies – Part I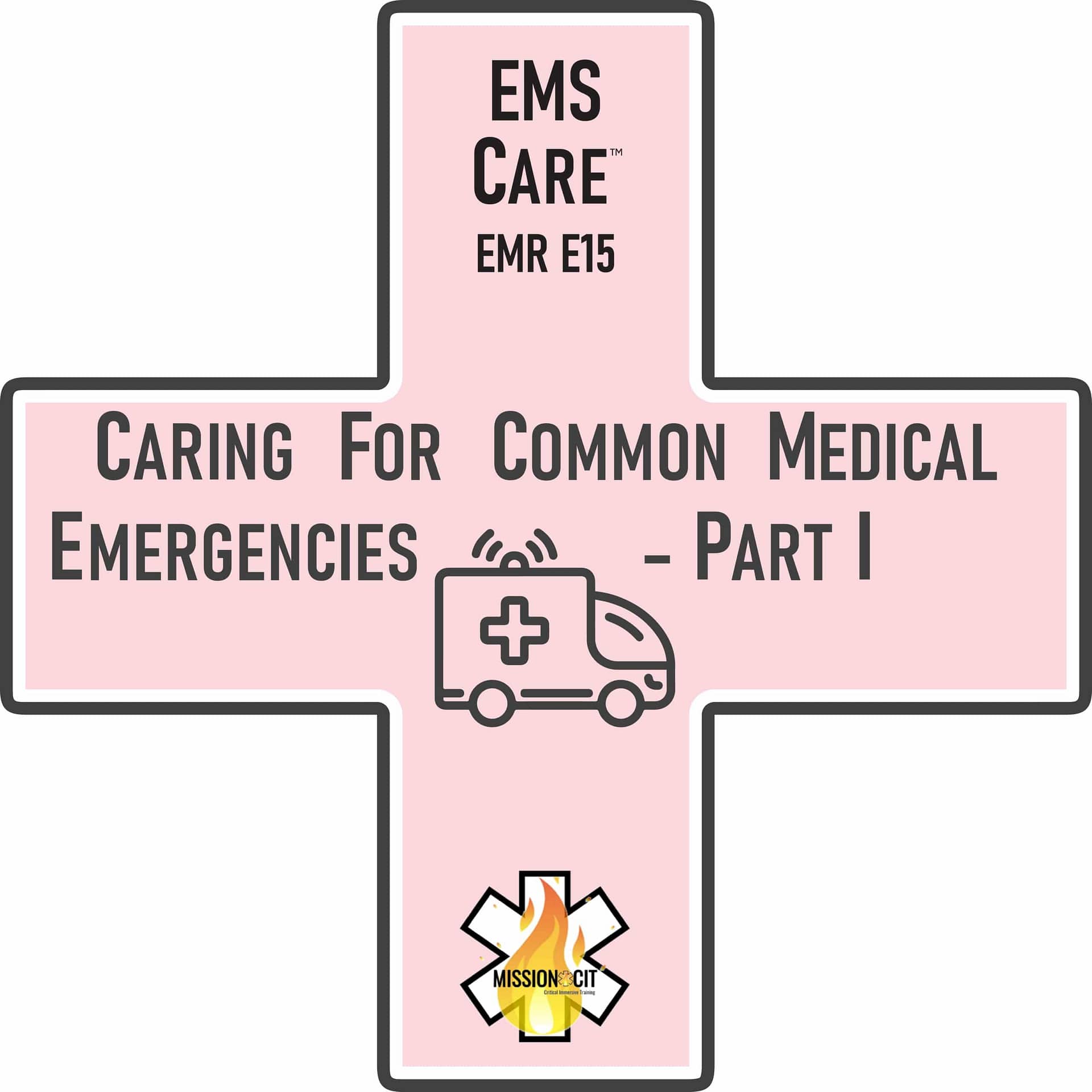 About Course
EMS Care EMR Chapter – E15 | Caring for Common Medical Emergencies – Part I
EMS Care EMR Chapter – E15 | Caring for Common Medical Emergencies – Part I begins with an introduction to the subject and covers the various medical emergencies that you will encounter as an EMR. We subsequently explore  in-depth the following topics
What are Medical Emergencies?
Altered Mental Status.
Seizures.
Stroke.
Diabetes.
Sepsis and Anaphylaxis, and.
Renal Failure.
Important Notes:
If you only want to take the online course for CME credit, you can pay here.  The fee for online-only does NOT include a skills session nor (re)certification.  Furthermore, you will receive a certificate for CME credit after successful completion of the course.
This course is part of the EMR New Initial curriculum. 

Hence, if you sign up for EMR new Initial, you will be automatically enrolled in this course. 

To get credit for this course, you must watch all the lessons in their entirety, the course review, and pass the quiz at the end with a score of 75% or better.
Excerpts from Caring for Common Medical Emergencies – Part I
Besides just appearance and behavior, there are a few other tools that can be used to accurately determine whether a person has an altered mental status and if so, the cause.
One such tool is the Glasgow Coma Scale, which is a standardized tool used for describing the level of responsiveness. It is often used by EMTs and Paramedics and can come in handy for trauma and medical patients.
On this scale, the lowest possible score is 3 while the highest possible score is 15. On this scale, you award a maximum of:
4 points for the Eye opening
5 points for Verbal response, and
6 points for Motor response
Show More
Course Content
EMS Care EMR Chapter – E15 | Caring for Common Medical Emergencies – Part I
Lesson 0 – Chapter Introduction

Lesson 1 – Medical Emergencies and Their Possible Causes

Lesson 2 – What is a Normal Mental Status?

Lesson 3 – What are Seizures?

Lesson 4 – What is a Stroke?

Lesson 5 – What is Diabetes?

Lesson 6 – Sepsis

Lesson 7 – What is Renal Failure?

Lesson 8 – Chapter Review

EMS Care EMR Chapter E15 | Caring for Common Medical Emergencies – Part 1 | QUIZ