EMS Care Chapter 45 | Hemorrhage Control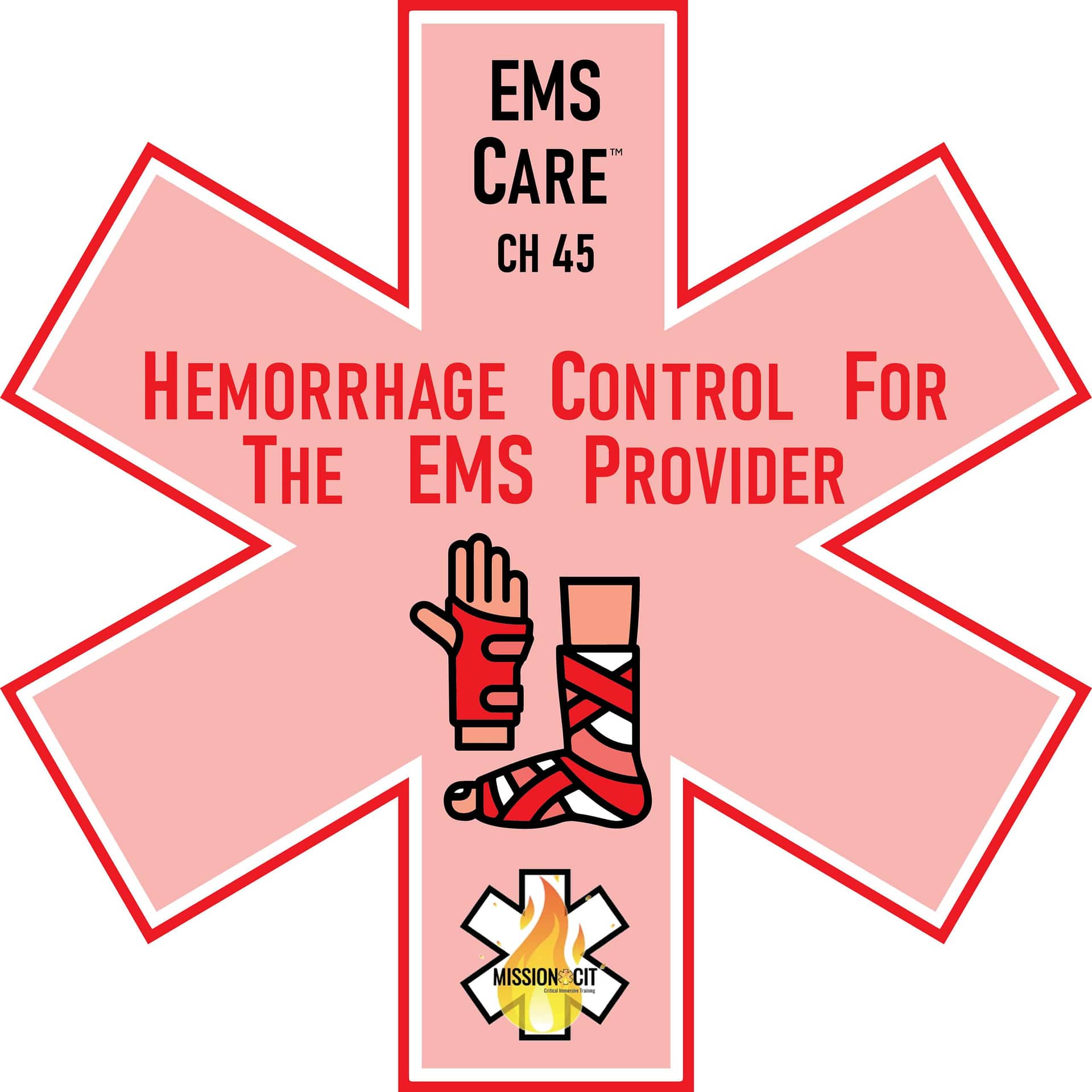 About Course
EMS Care Chapter 45 | Hemorrhage Control | 1 Hour CME Credit
We begin EMS Care Chapter 45 | Hemorrhage Control with an introduction to the subject. We subsequently explore in-depth:
Wound Packing
Pressure Dressings, and
Tourniquet Use
We then discuss the State of Connecticut protocols for Tourniquet Application and finish with the two videos.
As you go through your studies, there are five core concepts to take into consideration:
Indications for use of the different types of hemorrhage control methods and tools.
Understand the why behind each method.
Referencing your local protocols for each method.
Keep in mind the basics of PPE, Scene size up, and patient assessment.
Have a thorough understanding of the tools and devices available on your truck.
Important Notes:
The practical part of hemorrhage control will be scheduled in accordance with the (re)certification course you are taking.

If you only want to take the online course for CME credit, you can pay here.  The fee for online-only does NOT include a skills session nor (re)certification.  You will receive a certificate for CME credit after successful completion of the course.

This course is part of the EMT Recertification Day 2 curriculum and the New Initial EMT Course.  If you sign up for one of those courses, you will be automatically enrolled in this course.

Click here for scheduled courses.
To get credit for this course, you must watch all 6 lessons in their entirety and answer the interactive questions.  And if included with your course, you must attend the skills instruction session and demonstrate your aptitude for the covered Hemorrhage Control methods and tools.
An excerpt from EMS Care Chapter 45 | Hemorrhage Control:
"Now, let us discuss the Types of Bleeding.  We need to be aware of the location, severity, and source.
External Bleeding Occurs outside of the body, after a force penetrates the skin, and lacerates or destroys underlying blood vessels.  It is typically visible on the surface of the skin.
Hemorrhage is often referred to as severe bleeding.  It could refer to internal or external bleeding.  It is a major cause of hypoperfusion in trauma.
And the third item to consider is the source of the bleeding.  The source or type of blood vessel could be arterial, venous, or capillary.
Consequently, how much a person bleeds is determined by: (a) The Size and severity of the wound, (b) The Size and pressure of the ruptured vessel, and (c); The Individual's ability to clot."
This online course content is unique to MissionCIT
Show More
Course Content
Hemorrhage Control for the EMS Provider
Hemorrhage Control for the EMS Provider | Chapter Introduction

Lesson 2 | Wound Packing

Lesson 3 | Pressure Dressings

Lesson 4 | Tourniquet Use

Lesson 5 | CT State Protocol 6.17 Tourniquet Application

Lesson 6a | Video: Demonstration of Combat Application Tourniquet Application

Lesson 6b | Demonstration of SOF-TT Tourniquet Application