EMS Care Chapter 43 | HazMat and Terrorism Emergencies | Fire Service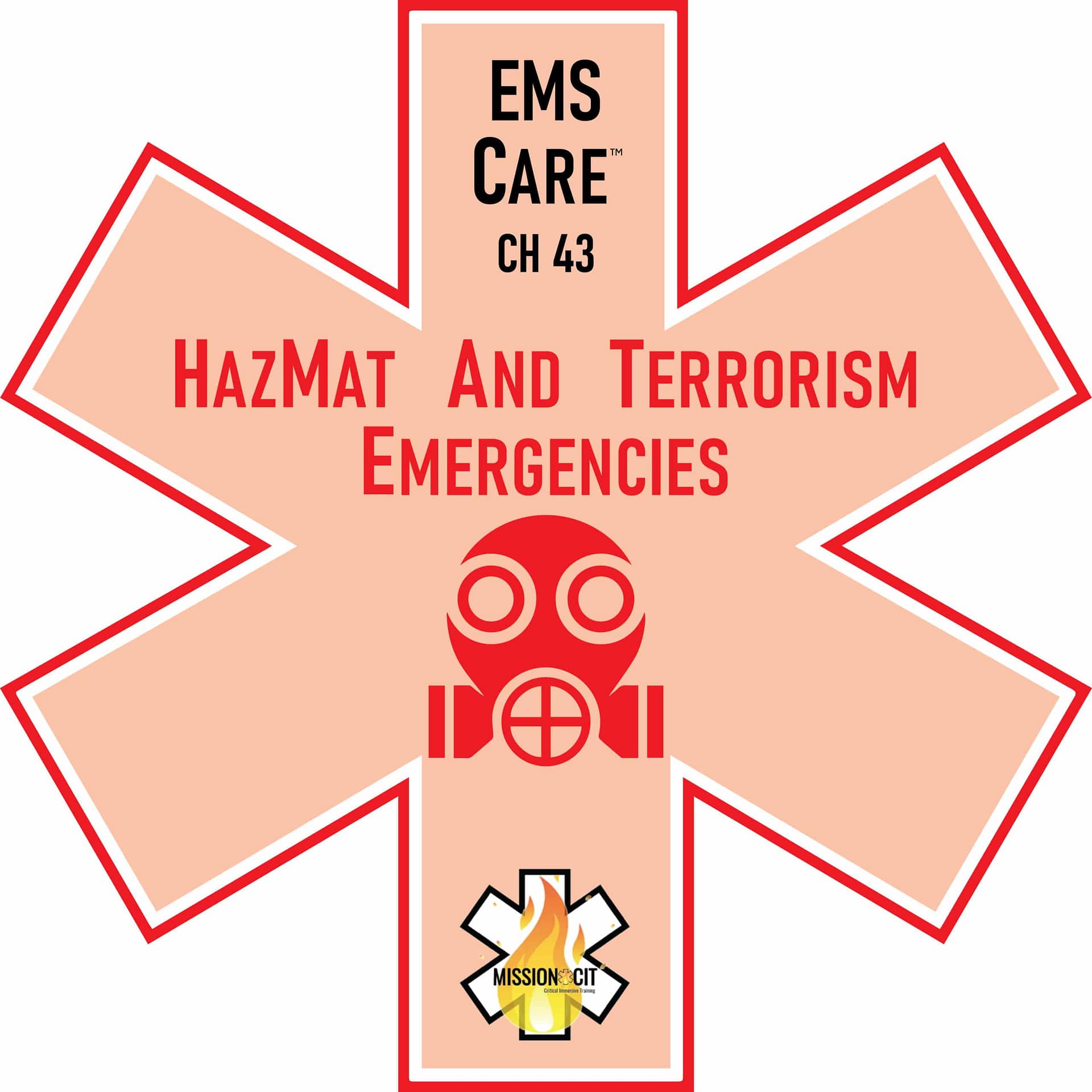 About Course
EMS Care Chapter 43 | HazMat and Terrorism Emergencies | Fire Service
EMS Care Chapter 43 | HazMat and Terrorism Emergencies | Fire Service with an introduction to the subject. We subsequently explore in-depth:
Lesson 1: HazMat Emergency
Lesson 2: HazMat | Role of EMS
Lesson 3: Terrorism | History and Categories
Lesson 4: Terrorism | CBRNE
Lesson 5: Terrorism Emergency | Role of EMS
Lesson 6: Cybercrime
The Core Concepts and takeaways from this chapter cover:
An introduction to HazMat and Terrorism
Role of EMS in disaster situations
History of Terrorism and its types
CBRNE agents, characteristics, and types of harm
Cybercrime, its effect, and how to handle it
Important Notes:
If you only want to take the online course for CME credit, you can pay here.  The fee for online-only does NOT include a skills session nor (re)certification.  You will receive a certificate for CME credit after successful completion of the course.
This course is part of the EMT Recertification Day 3 curriculum.  If you sign up for one of those courses, you will be automatically enrolled in this course. Click here for scheduled courses.
To get credit for this course, you must watch all the lessons in their entirety, the course review, and pass the quiz at the end with a score of 75% or better.
Show More
Course Content
EMS Care Chapter 43 | HazMat and Terrorism Emergencies
Lesson 0 – Introduction

Lesson 1 – HazMat Emergency

Lesson 2 – Role of EMS during HazMat Emergencies

Lesson 3 – Terrorism | History, and Categories

Lesson 4 – Terrorism | CBRNE

Lesson 5 – Terrorism Emergency – Role of EMS

Lesson 6 – Cyber Crime

Lesson 7 – Chapter Review

Hazmat and Terrorism Emergencies