EMS Care Chapter 35 | Chest injuries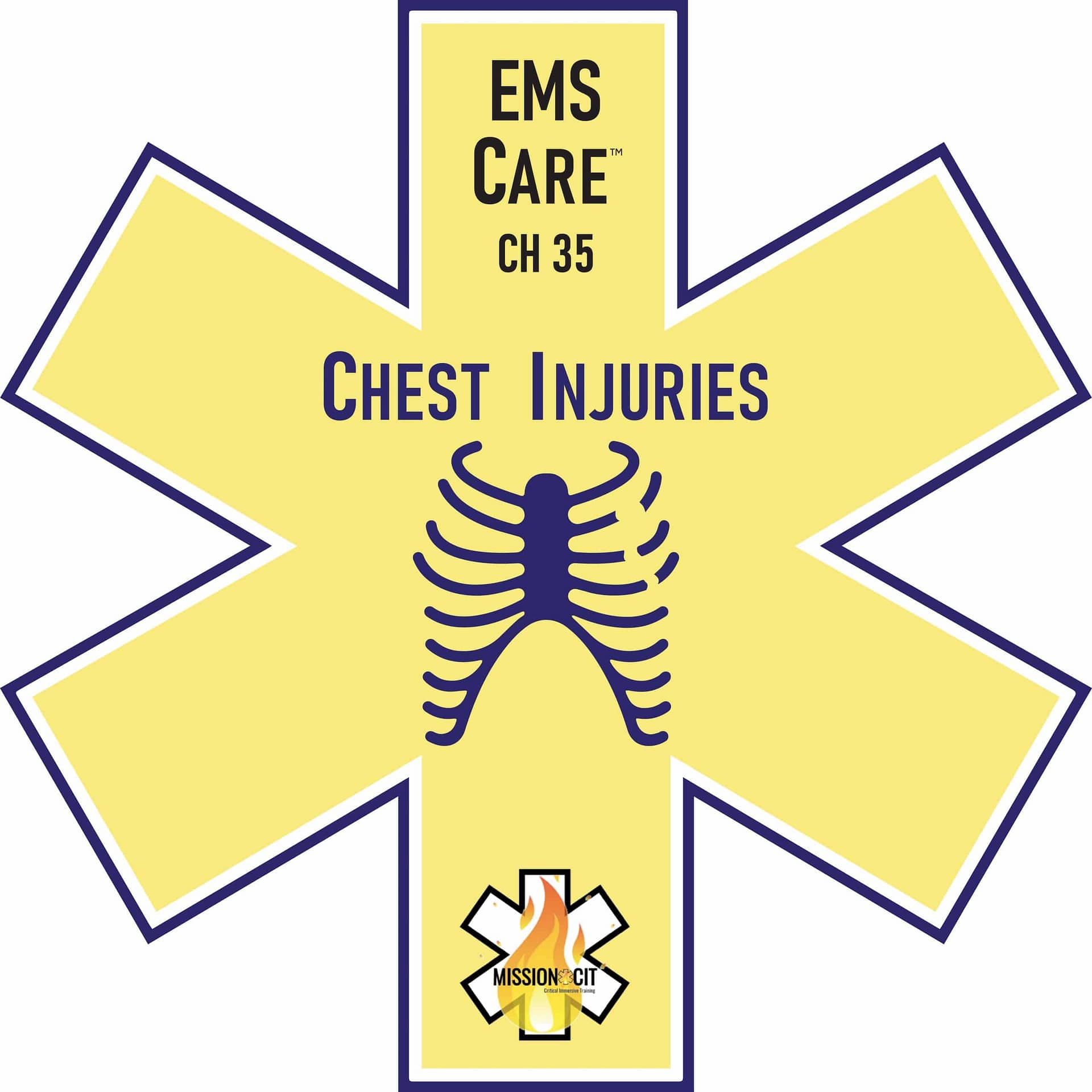 About Course
EMS Care Chapter 35 | Chest injuries
EMS Care Chapter 35 | Chest Injuries start with an introduction to the topic and has presentations that cover the anatomy of the chest, types of injuries that could happen, and how to deal with the same.  We subsequently explore  in-depth the following lessons:
Anatomy of the Chest.
Chest Injuries.
Core Concepts covered :
Understand the anatomy and physiology of the chest, and the pathophysiology of chest trauma.
Identify the injury.
And finally, Provide appropriate care for patients suffering from chest trauma.
Important Notes
So, if you only want to take the online course for CME credit, you can pay here.  The fee for online-only does NOT include a skills session nor (re)certification.  You will receive a certificate for CME credit after successful completion of the course.
 If you sign up for one of those courses, you will be automatically enrolled in this course. Click here for scheduled courses.
To get credit for this course, you must watch all the lessons in their entirety, the course review, and pass the quiz at the end with a score of 75% or better.
An Excerpt from the course on Chest Injuries
Pneumothorax or a collapsed lung is a condition where there is an accumulation of air in the pleural space. Adequate respiration will not be obtained despite ventilations. You may hear abnormal or diminished breath sounds.
Depending on the nature and severity of the injury, pneumothorax can be categorized into simple and tension.
A simple pneumothorax, referred to as pneumothorax, does not result in major changes in the patient's cardiac physiology. The lung has collapsed similarly to a deflated balloon.
Conversely, a tension pneumothorax is caused by a blunt injury where a fractured rib lacerates a lung or bronchus this may be an open or closed injury. This tension pneumothorax is a pneumothorax where the pleural space continues to fill with air or blood and will push towards the only space that is available in the closed chest.
Show More
Course Content
EMS Care Chapter 35 | Chest injuries
Lesson 0 – Chapter introduction

Lesson 1 – Anatomy and Physiology of the Chest

Lesson 2 – Chest Injuries

Lesson 3 – Chapter Review

EMS Care Chapter 35 | Chest injuries | QUIZ