EMS Care Chapter 33 | Soft Tissue injuries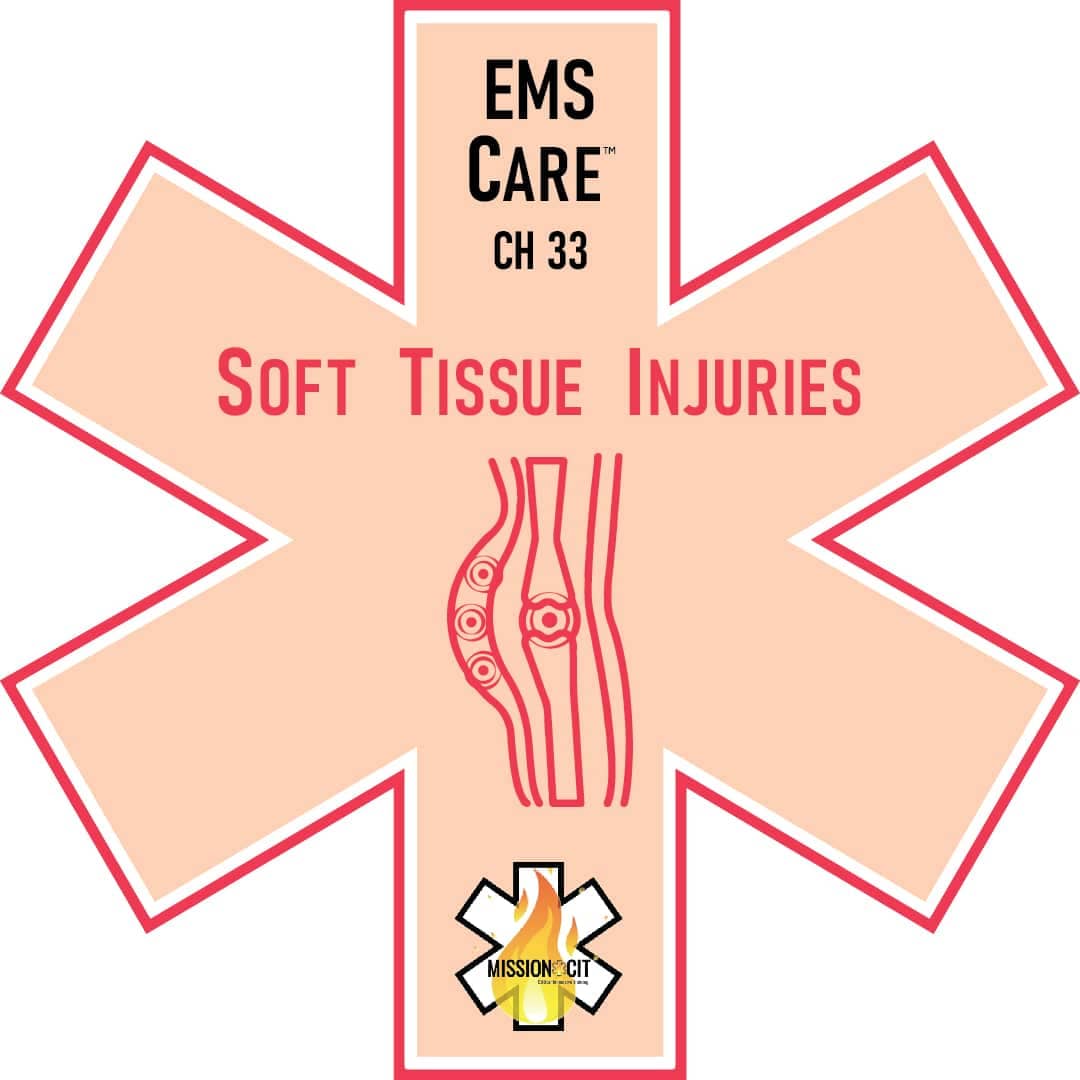 About Course
EMS Care Chapter 33 | Soft Tissue injuries 
EMS Care Chapter 33 | Soft Tissue injuries |  Soft Tissue injuries begin with an introduction to the subject. We subsequently explore  in-depth the following lessons:
Open and Closed Injuries.
Emergency Medical Care.
Burns.
Patient Assessment and Treatment.
Core Concepts covered :
To identify whether an injury is an open or closed one.
To ascertain the cause of burn injuries.
Assessment and treatment for soft tissue and burn injuries.
Important Notes:
If you only want to take the online course for CME credit, you can pay here.  The fee for online-only does NOT include a skills session nor (re)certification.  You will receive a certificate for CME credit after successful completion of the course.
 If you sign up for one of those courses, you will be automatically enrolled in this course. Click here for scheduled courses.
To get credit for this course, you must watch all the lessons in their entirety, the course review, and pass the quiz at the end with a score of 75% or better.
An Excerpt from the course on Soft Tissue injuries
Open injuries can occur anywhere, depending on the mechanism of injury and the area that was exposed to it.
An abdominal wound is an injury in the abdominal cavity that could expose the internal organs. Typically, you can see organs protruding through the wound and this is called evisceration.
Open injuries on the neck are life-threatening as the open veins in the neck can suck in air and cause cardiac arrest. So, cover the wound with an occlusive dressing right away. Apply manual pressure and or a pressure dressing to control bleeding, but make sure not to compress both the carotid arteries at the same time. It should go without saying that nothing should be wrapped around the neck. A pressure dressing applied to the neck should cover the wound on the affected side and then under the arm on the unaffected side. If there is a large wound or bilateral wound, more than one pressure dressing may be applied.
In any of these situations, apply a dry and sterile dressing, immobilize that area with a splint or a bandage, and transport the patient right away. Remember that a longboard is the largest splint you have. You may utilize a longboard or scoop stretcher for splinting in this application.
Show More
Course Content
EMS Care Chapter 33 | Soft Tissue injuries
Lesson 0 – Chapter Introduction

Lesson 1 – Open and Closed Injuries

Lesson 2 – Emergency Medical Care

Lesson 3 – Burns

Lesson 4 – Patient Assessment and Treatment of Burns

Lesson 5 – Chapter Review

EMS care Chapter 33 | Soft Tissue injuries | QUIZ