EMS Care Chapter 30 | Care for Patients with Special Challenges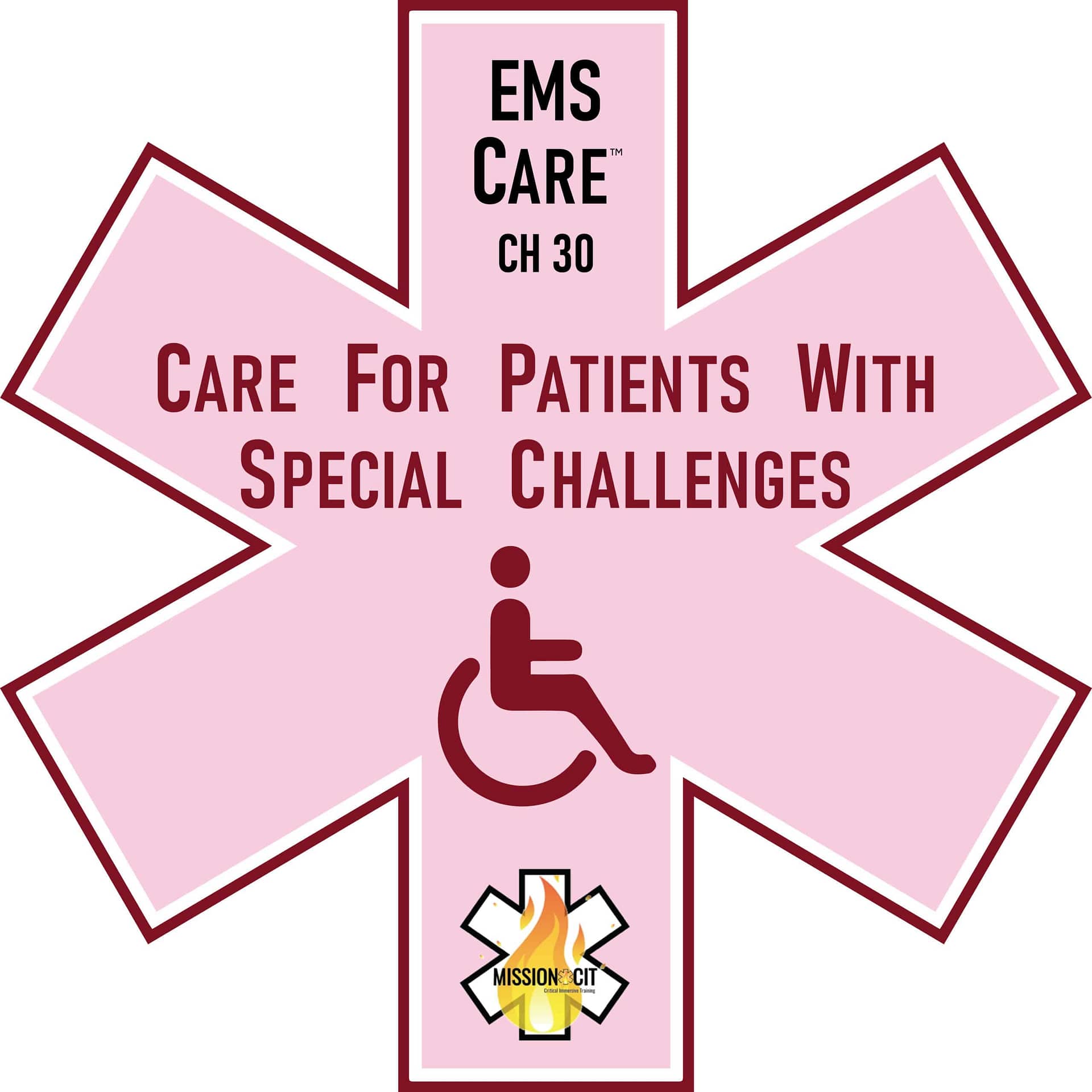 About Course
EMS Care Chapter 30 | Care for Patients with Special Challenges | 2 Hours CME Credit
We begin this EMS Care Chapter 30 | Care for Patients with Special Challenges with an introduction to the subject. We subsequently explore in-depth:
Congenital, Neurological and Sensory Disabilities.
Traumatic and Bariatric Disabilities, Chronic Diseases, and Terminal Illness.
Environment Related challenges along with Abuse and Neglect.
Tracheostomy Care and Respiratory Assistance, and
Technology-Assisted and Dependent Patients
The Core Concepts and takeaways from this chapter include:
Obtain a more comprehensive grasp of the types of disabilities and challenges patients may have, including the obese and terminally ill patient.
Be prepared for the Special aspects of prehospital care for a patient, both for a specific disability as well as any advanced medical devices they may have.
Prepare for more of the challenges faced by EMTs in-home care and hospice environments.
Understand how to manage a patient with a tracheostomy.
Know more of the Types of advanced medical devices patients may rely on, and finally
How to recognize and deal with cases of abuse and neglect, including the homeless.
Important Notes:
If you only want to take the online course for CME credit, you can pay here.  The fee for online-only does NOT include a skills session nor (re)certification.  You will receive a certificate for CME credit after successful completion of the course.

This course is part of the EMT Recertification Day 2 curriculum and the New Initial EMT Course.  If you sign up for one of those courses, you will be automatically enrolled in this course.

Click here for scheduled courses.
To get credit for this course, you must watch all 7 lessons in their entirety and pass the quiz at the end with a score of 75% or better.

An excerpt from EMS Care Chapter 30 | Care for Patients with Special Challenges:
So, what does the EMT do when abuse is suspect.  The following guidelines will be helpful as you best manage the situation.
Do not make accusations.
Do best to get the patient out of the environment and safely transport.
Report suspicions according to requirements of your jurisdiction.
If a parent/guardian refuses treatment of a minor child whom you feel needs medical attention, contact law enforcement immediately.
Written documentation is vital because the "story" often changes as investigation proceeds.
According to CT laws, any and all cases of suspected abuse, neglect, or exploitation of children or the elderly must be reported. This applies even in cases when the patient is not transported. And finally
Mandated reporters must report orally to the Department of Children and Families' (DCF) Hotline or a law enforcement agency within 12 hours of suspecting that a child has been abused or neglected and must submit a written report (DCF-136 ) to DCF within 48 hours of making the oral report.
This online course content is unique to MissionCIT
Show More
Course Content
EMS Care Chapter 30 | Care for Patients with Special Challenges
Ch30 | Lesson 1 | Introduction to Care for Patients with Special Challenges

Ch30 | Lesson 2a | Congenital Disabilities

Ch30 | Lesson 2b | Neurological Disabilities

Ch30 | Lesson 2c | Sensory Disabilities

Ch30 | Lesson 3a | Disabilities resulting from Traumatic Injury

Ch30 | Lesson 3b | Bariatric & Genitourinary Disabilities, Chronic Disease

Ch30 | Lesson 3c | Palliative care, Hospice, Advanced directives, Terminal Illness

Ch30 | Lesson 4 | Environment Related Challenges | Abuse & Neglect

Ch30 | Lesson 5 | Tracheostomy Care and Respiratory Assistance Devices

Ch30 | Lesson 6a | Advanced Medical Devices

Ch30 | Lesson 6b | Advanced Medical Devices

Ch30 | Lesson 7 | Chapter Review

EMS Care Chapter 30 | Patients with Special Challenges