EMS Care Chapter 24 | Multi-System Trauma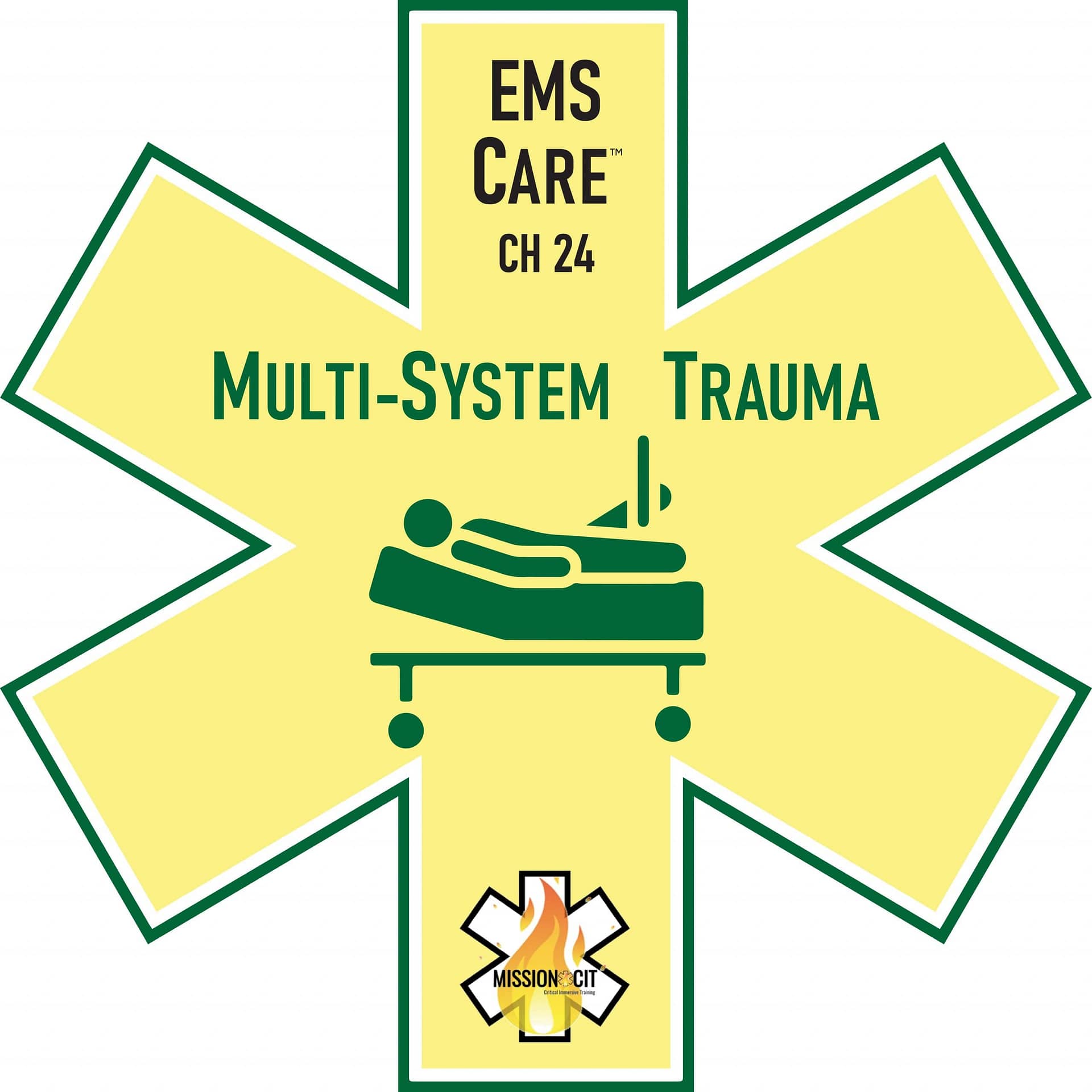 About Course
EMT Multi-System Trauma
EMS Care Chapter 24 | EMT Multi-System Trauma starts with an introduction to the topic and has presentations on various aspects scenarios that could result in multiple systems getting injured. The course also describes how such situations are to be handled. We subsequently explore  in-depth the following lessons:
Determining Patient Severity.
Managing the Multi-System Trauma Patient.
Types of Blunt Trauma.
Types of Penetrating Trauma.
Specific Injuries.
Multi-System Trauma Care.
Core Concepts covered :
Kinematics of Trauma.
Blunt and Penetrating Trauma.
Deceleration Injuries.
The Golden Principles of Out-of-Hospital Trauma Care.
Critical Thinking in Multi-System Trauma Care.
Specific Injuries Related to Multi-System Trauma.
Important Notes
So, if you only want to take the online course for CME credit, you can pay here.  The fee for online-only does NOT include a skills session nor (re)certification.  You will receive a certificate for CME credit after successful completion of the course.
 If you sign up for one of those courses, you will be automatically enrolled in this course. Click here for scheduled courses.
To get credit for this course, you must watch all the lessons in their entirety, the course review, and pass the quiz at the end with a score of 75% or better.
An Excerpt from the course on Multi-System Trauma
The best way to prepare for multisystem trauma is to practice and develop teamwork before the call.
Follow priorities determined by primary assessment.
Attend to immediate threats to life.
Reassess what to treat on scene and what needs definitive care.
Call the hospital so they can prepare.
Depending on your primary assessment, you may postpone taking vital signs until you are en route to the hospital. Alert the hospital that you are on your way, and give them the information you have so that they can prepare the trauma team. This may include specialists such as neurosurgeons, thoracic surgeons, and orthopedic surgeons. As you reassess your patient in the vehicle, call the hospital as necessary to update the vital signs.
Limit scene treatment to airway management, breathing control, administering high-concentration oxygen, controlling bleeding, and spinal immobilization.
Show More
Course Content
EMS Care Chapter 24 | Multi-System Trauma
Lesson 0 – Chapter Introduction.

Lesson 1 – Determining Patient Severity

Lesson 2 – Managing the Multi-System Trauma Patient

Lesson 3 – Types of Blunt Trauma

Lesson 4 – Types of Penetrating Trauma

Lesson 5 – Specific Injuries

Lesson 6 – Multi-System Trauma Care

Lesson 7 – Chapter Review

EMS Care Chapter 24 | Multi-System Trauma | QUIZ