EMS Care Chapter 17 | Neurologic emergencies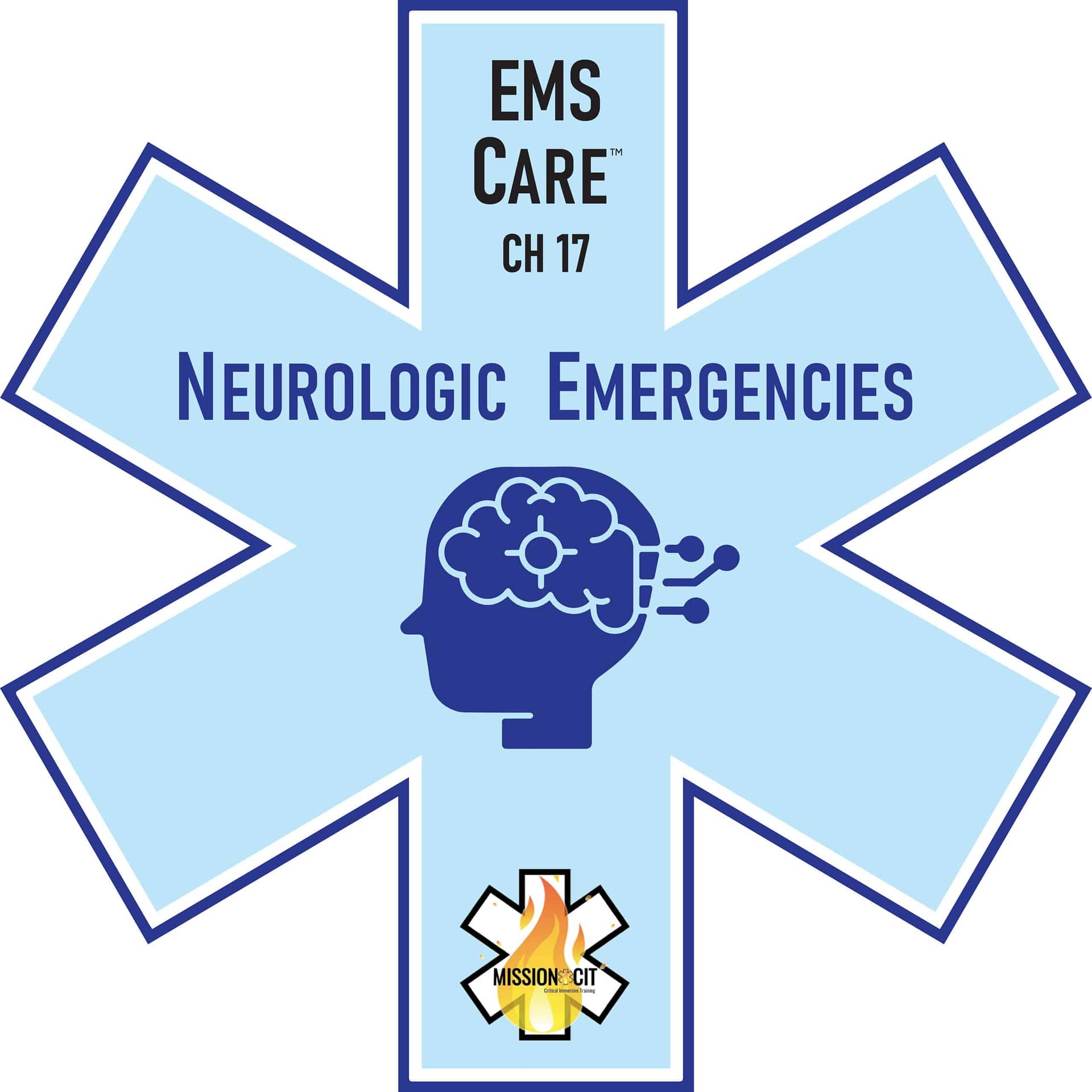 About Course
EMS Care Chapter 17 | Neurologic emergencies
EMS Care Chapter 17 | Neurologic emergencies start with an introduction to the topic.  We subsequently explore  in-depth the following lessons:
Pathophysiology of the Reticular Activating System.
Assessing the patient with altered mental status.
Other Causes of AMS | Part A – Sepsis.
Other Causes of AMS | Part B – Seizures.
Other Causes of AMS | Part C – Stroke and T-I-Ace.
Other Causes of AMS | Part D – Dizziness and Syncope.
Core Concepts covered :
Anatomy and Function of the Brain.
Assessment of AMS Patient.
Seizures – Causes, Types, and Assessment.
Stroke or TIA – Causes, Assessment Findings, and Symptoms.
Stroke Alert Criteria.
Stroke or TIA – Scene Safety and Standard Precautions.
Important Notes
If you only want to take the online course for CME credit, you can pay here.  The fee for online-only does NOT include a skills session nor (re)certification.  You will receive a certificate for CME credit after successful completion of the course.
 If you sign up for one of those courses, you will be automatically enrolled in this course. Click here for scheduled courses.
To get credit for this course, you must watch all the lessons in their entirety, the course review, and pass the quiz at the end with a score of 75% or better.
An Excerpt from the course on Neurologic emergencies
So, it is often difficult to communicate with a stroke patient, as damage to the brain can cause partial or complete loss of the patient's ability to use words.
Aphasia is the loss of the ability to understand or express speech, caused by brain damage. It can occur suddenly after a stroke or head injury or develop slowly from a growing brain tumor or disease.
Aphasia is a sign of some other condition, such as a stroke or a brain tumor. A person with aphasia may:
Speak in short or incomplete sentences.
Speak in sentences that don't make sense.
Substitute one word for another or one sound for another.
Speak unrecognizable words.
Not understand other people's conversation, or.
Write sentences that don't make sense.
Show More
Course Content
EMS Care Chapter 17 | Neurologic emergencies
Lesson 0 – Chapter Introduction

Lesson 1 – Pathophysiology of the Reticular Activating System

Lesson 2 – Assessing the Patient with Altered Mental Status

Lesson 3A – Other Causes of AMS | Part A – Sepsis

Lesson 3B – Other Causes of AMS | Part B – Seizures

Lesson 3C – Other Causes of AMS | Part C – Stroke and TIAs

Lesson 3D – Other Causes of AMS | Part D – Dizziness and Syncope

Lesson 4 – Chapter Review

EMS Care Chapter 17 | Neurologic emergencies | QUIZ