EMS Care Chapter 02 | Well-Being of the EMT
Well-Being of the EMT – Lessons
We begin EMS Care Chapter 02 | Well-Being of the EMT with an introduction to the subject. We subsequently explore in-depth:
Lesson 1: The 'WHAT' and 'WHY' regarding the well-being of an EMT.
Lesson 2: Stress Management
Lesson 3: Standard safety Precautions and Protective equipment
Lesson 4: Work related injuries and its prevention
Lesson 5: Infectious diseases
Lesson 6: Caring of the critically ill patients
Lesson 7: Wellness principles
Lesson 8: Family Inclusiveness
Core Concepts & Takeaways
Stress Management
Safety Standards and protection equipment
Infectious diseases
Communication when caring for the injured
Important Notes:
If you only want to take the online course for CME credit, you can pay here.  The fee for online-only does NOT include a skills session nor (re)certification.  You will receive a certificate for CME credit after successful completion of the course.
This course is part of the EMT Recertification  curriculum and the Initial EMT Course.  If you sign up for one of those courses, you will be automatically enrolled in this course. Click here for scheduled courses.
To get credit for this course, you must watch all the lessons in their entirety, the course review, and pass the quiz at the end with a score of 75% or better.
Course Curriculum
EMS Care Chapter 2 | Well-Being of the EMT
Lesson 0 – Chapter Introduction

Lesson 1 – The What and Why of the Well-Being of the EMT

Lesson 2a – Stress Management

Lesson 2b – Stress Management

Lesson 3 – Saftey Precautions and PPE

Lesson 4 – Work-Related Injuries

Lesson 5 – Infectious Diseases

Lesson 6 – Caring for Critically Ill Patients

Lesson 7 – Wellness Principles

Lesson 8 – Family Inclusiveness

Lesson 9 – Chapter Review

Well-Being of the EMT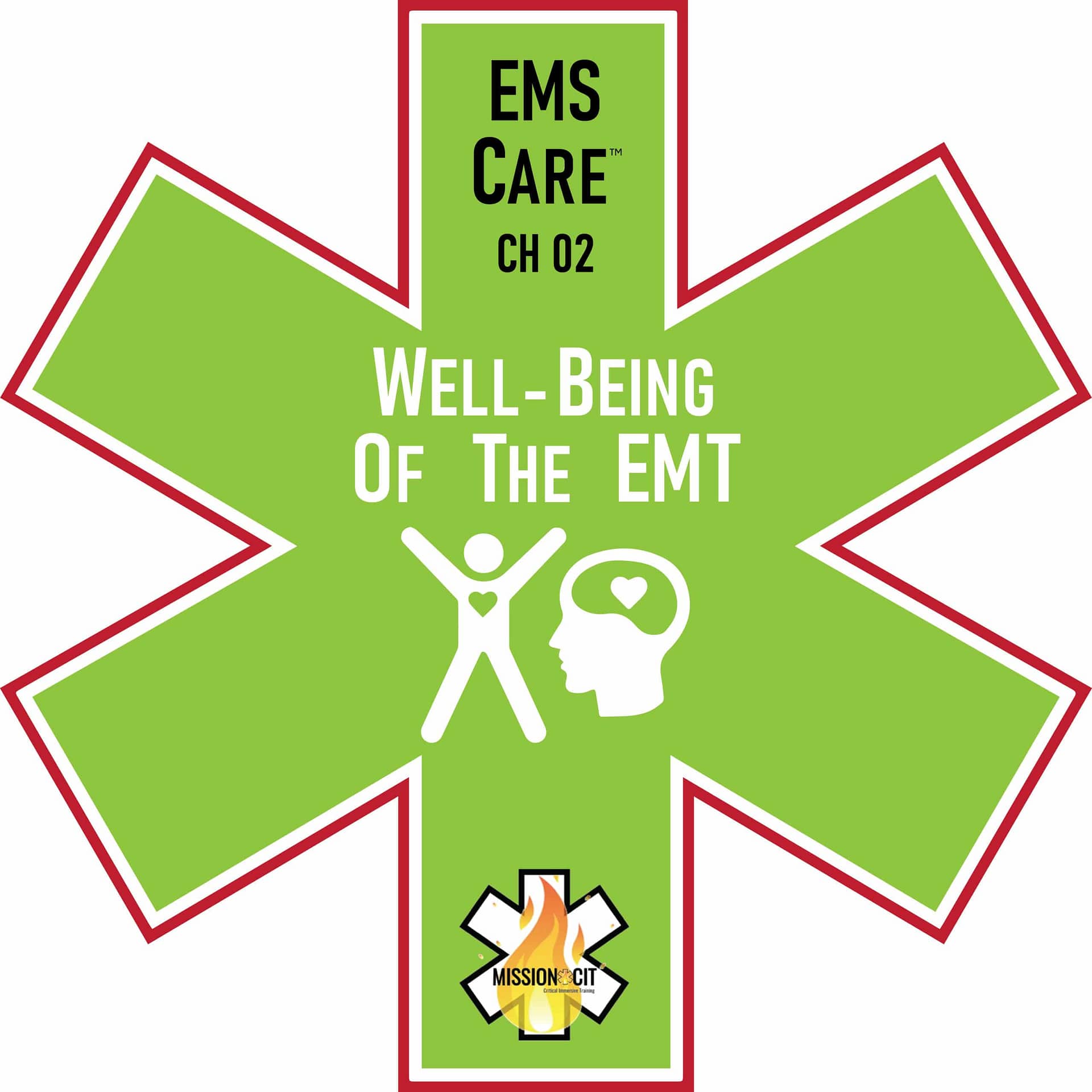 Requirements
To get credit for this course, you must watch all the lessons in their entirety and pass the quiz at the end with a score of 75% or better