EMR Initial | EMS Care Ch EMR- E27 | Geriatrics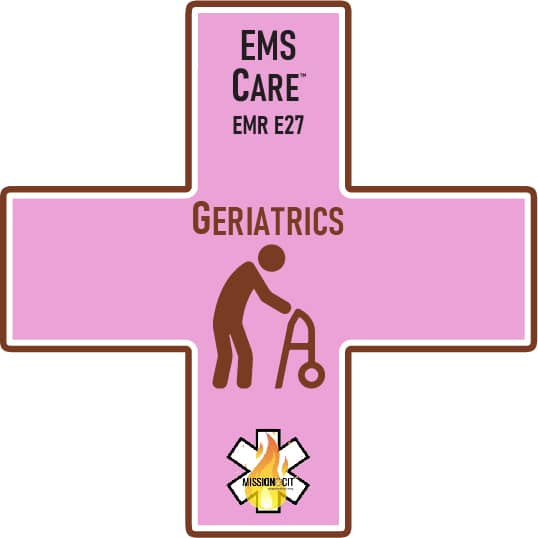 About Course
EMS Care EMR Chapter E27 | Geriatrics is a course about how the aging process effects humans beings. The course deals with the anatomical an physiological changes that happen to the organ systems as we age. It also discusses how EMRs should deals with Geriatric Patients during an emergency, how to talk with them during an assesment and also scene size up in such situations.
The lessons covered are
Characteristics of geriatric patients
Anatomical & Physiological Changes
Assessment-based approach
Common medical problems
Special Geriatric assessment findings
To get credit for this course, you must watch all the lessons in their entirety, the course review, and pass the quiz at the end with a score of 75% or better.
An Excerpt from the course on Geriatrics
Renal function
With aging, the kidneys become smaller due to the loss of nephrons, the functional parts of the kidneys. The loss of nephrons reduces the weight of the kidneys by about one-third of their normal weight. This reduces the surface area available to filter blood. Change in the arterial system, which supplies blood to the kidneys, also reduces the renal blood flow. These changes result in a lesser amount of blood per minute passing through the kidneys for filtration. Since the kidneys filter out many drugs (including antibiotics), their reduced functioning leads to drug toxicity in older adults if they take too much medication or too frequently.
Structural changes that happen in the renal function with aging:
Shrinking of kidneys and decline in glomerular function makes regulating body water, sodium, and potassium, difficult. The functional ability is usually retained until stressed.
Decreased renal blood flow increases the risk of toxicity from all drugs and toxins processed in kidneys.
Show More
Course Content
EMR Initial | EMS Care Ch EMR- E27 | Geriatrics
Lesson 0 – Chapter Introduction

Lesson 1 – Characteristics of Geriatric Patients

Lesson 2 – Anatomical and Physiological Changes

Lesson 3 – Assessment-Based Approach

Lesson 4 – Common Medical Problems

Lesson 5 – Special Geriatric Assessment Findings

Lesson 6 – Chapter Review

EMR Initial | EMS Care Ch EMR-E27 | Geriatrics | QUIZ