EMR Initial | EMS Care Ch EMR- E22 | Head, Facial, Neck, and Spine Trauma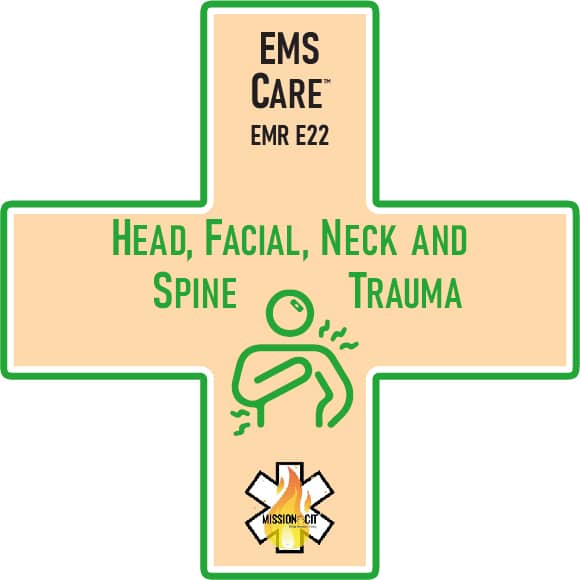 About Course
EMS Care  EMR Chapter 22| Head, Facial, Neck, and Spine Trauma starts with the introduction followed by the Anatomy and the Physiology of the Head, spine neck. This is followed by discussion on the nature and severity of the different injuries.  The lessons covered are
Lesson 1: Anatomy and Physiology
Lesson 2: Injuries to the Brain and Skull, and
Lesson 3: Injuries to the Spine and Patient Assessment
To get credit for this course, you must watch all the lessons in their entirety, the course review, and pass the quiz at the end with a score of 75% or better.
An Excerpt from the course on Head, Facial, Neck, and Spine Trauma
Closed head injuries are the most common type of brain injury, accounting for about 75% of the estimated two million brain injuries that occur annually. When a head injury is closed, nothing directly touches the brain. Instead, the injury comes from the brain-rattling in the skull. If the head is hit with sufficient force, the brain may even be bruised by the skull itself. The closed injury may present with swelling or depression of skull bones.
Common types of closed brain injuries include:
Diffuse axonal injury: These injuries are relatively common and are usually caused by shaking of the brain back and forth, which can happen in car accidents, from falls, or shaken baby syndrome.
Concussion: Concussions usually result in only a temporary disruption of brain function. Moreover, if a concussion is not promptly treated and swelling continues, the concussion survivor can die.
Intracranial hematoma: This occurs when a ruptured blood vessel results in a pool of blood either around the brain or in between the brain and skull. It can cause intense pressure on the brain that may be fatal or permanently damaging if not promptly treated. There are three types of hematomas: Epidural, Subdural, and Intracerebral.
Cerebral contusion: A contusion is a bruise to the brain itself. A contusion causes bleeding and swelling inside the brain around the area where the head was struck. When trauma is not the cause, the most common reasons are chronic, including high blood pressure in older adults, bleeding disorders in children or adults, medications that cause blood thinning, or certain illicit drugs.
Show More
Course Content
EMR Initial | EMS Care Ch EMR- E22 | Head, Facial, Neck, and Spine Trauma
Lesson 0 – Chapter Introduction

Lesson1 – Anatomy and Physiology of the Head | Skull

Lesson 2 – Head Injuries

Lesson 3 – Spine Injuries

Lesson 4- Chapter Review

EMR Initial | EMS Care Ch EMR- E22 | Head, Facial, Neck, and Spine Trauma | QUIZ