EMR Initial | EMS Care Ch EMR- E16 | Caring for Common Medical Emergencies – Part II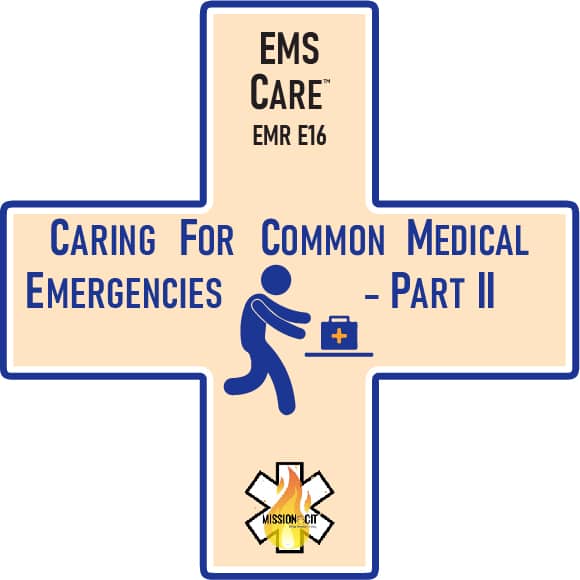 About Course
EMS Care  EMR Chapter E16 |  Caring for Common Medical Emergencies – Part II  is a continuation of part on one and deals with emergencies that could arise in the Abdomen, through infectious diseases, pregnancy's with focus on vaginal bleeding and more.  The lessons covered are
Abdominal and Gastrointestinal Disorders
Infectious Diseases
Cardiovascular
Toxicology
Respiratory
Gynecology, and
Diseases of the Eyes, Ears, Nose, and Throat
To get credit for this course, you must watch all the lessons in their entirety, the course review, and pass the quiz at the end with a score of 75% or better.
An Excerpt from the course on Caring for Common Medical Emergencies – Part II 
Ensure that the airway is clear and check circulation for any possible bleeding. Treat the patient for shock and decide if emergency transportation is required.
Take the patient's history and continue with the detailed secondary examination where you inspect the entire abdominal area and the possibility of bleeding.
During the physical examination, palpate the quadrant that's farthest away from the quadrant exhibiting signs of injury and pain. Also, inspect and palpate the kidney area for bruises, tenderness, swelling, and pain.
Since abdominal injuries can lead to a quick deterioration of blood pressure and pulse, always stay on top of the vitals. If the mechanism of injury suggests an isolated injury, focus your examination on that area.
Communicate everything to the receiving healthcare facility and document your findings.
Show More
Course Content
EMR Initial | EMS Care Ch EMR-E16 | Caring for Common Medical Emergencies – Part II
Lesson 0 – Chapter Introduction

Lesson 1 – Abdominal and Gastrointestinal Disorders

Lesson 2 – Infectious Diseases

Lesson 3 – Cardiovascular

Lesson 4 – Toxicology

Lesson 5 – Respiratory Emergencies

Lesson 6 – Gynecology

Lesson 7 – Diseases of the Eyes, Ears, Nose, and Throat

Lesson 8 – Chapter Review

EMR Initial | EMS Care Ch EMR-E16 | Caring for Common Medical Emergencies – Part II