EMR Initial | EMS Care Ch EMR- E14 | Patient Assessment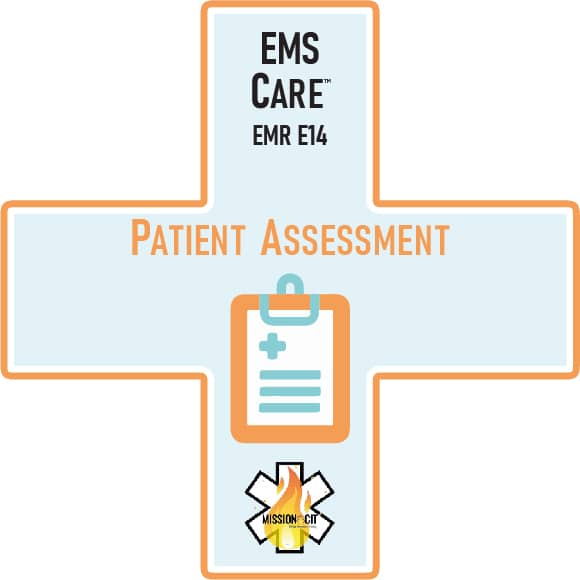 About Course
EMS Care  EMR Chapter E14| Patient Assessment starts with the introduction followed by detailed discussions on how an EMR should evaluate a patient. Step by Step procedures are described, so that an EMR is able to make an informed decision rather than going by appearances.. The lessons covered are
Step 1- Scene size-up;
Step 2-Primary assessment;
Step 3- History taking;
Step 4-Secondary assessment; and
Step 5-Reassessment
To get credit for this course, you must watch all the lessons in their entirety, the course review, and pass the quiz at the end with a score of 75% or better.
An Excerpt from the course on Patient Assessment
Painful stimulus applies pain to the patient to determine if and how he responds. Painful stimuli can be applied either centrally or peripherally. A central painful stimulus is applied to the core of the body.
The following are methods of applying central painful stimuli:
Trapezius pinch: Pinch the trapezius muscle that extends from the neck's base to the shoulder.
Supraorbital pressure: Sliding finger under the upper ridge of the eye socket and applying upward pressure. Care must be taken not to damage the eyelid or globe during this procedure.
Sternal rub: Hard downward pressure to the center of the sternum with the knuckles of the hand.
Earlobe pinch: Pinch the soft tissue portion of the earlobe. And,
Armpit pinch: Pinch the skin and underlying tissue along the margin of the armpit.
The following are methods of applying peripheral painful stimuli. 
Nail bed pressure. Apply point pressure to the cuticle portion of the nail bed.
Pinch the web between thumb and index finger.  Or,
Pinch the finger, toe, hand, or foot
Show More
Course Content
EMR Initial | EMS Care Ch EMR- E14 | Patient Assessment
Lesson 0 – Chapter introduction

Lesson 1 – Scene Size-up

Lesson 2 – Primary Assessment

Lesson 3 – History Taking

Lesson 5 – Reassessment

Lesson 6 – Chapter Review

Lesson 4 – Secondary Assessment

EMR Initial | EMS Care Ch EMR- E14 | Patient Assessment| QUIZ