EMR Initial | EMS Care Ch EMR- E01 | Emergency Medical Systems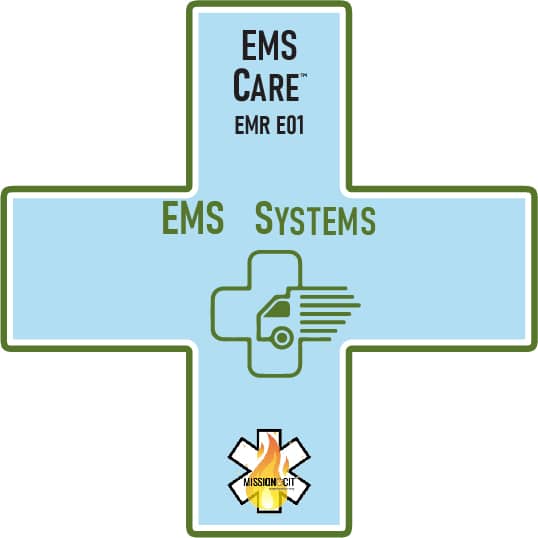 About Course
Emergency Medical Systems

EMS Care  EMR Chapter 01| Emergency Medical Systems starts with the introduction to the topic. It walks the student through the different aspects of how the EMS system evolved and also discusses in length the various facets of the job right from expected behaviour to the certification process. The lessons covered are
Lesson 1: The Emergency Medical Services System
Lesson 2: Roles, Responsibilities, and Professionalism of EMS Personnel – Part A
Lesson 3: Roles, Responsibilities, and Professionalism of EMS Personnel – Part B
Lesson 4: Quality Improvement
Lesson 5: Patient Safety
To get credit for this course, you must watch all the lessons in their entirety, the course review, and pass the quiz at the end with a score of 75% or better.
An Excerpt from the course on Emergency Medical Systems
It is critical that an EMS office exist within each state to both regulate EMS functions and provide technical assistance to the EMS system. The lead agency for EMS within a state's government structure varies among states, but ideally, the director of the lead agency should have cabinet-level access to the governor. Each state EMS director should have access to a state EMS medical director, EMS medical committee, and EMS advisory or authority committee.   
State EMS offices can play a crucial role in collaboratives that regionalize care for time-sensitive illnesses and recognize specialty receiving centers. State EMS offices may also be responsible for establishing equipment requirements, medication formularies, and protocols or guidelines for patient care. State EMS offices serve as resources for EMS agencies and practitioners within the state by assisting with planning, gap analyses, funding, and other support for the provision of day-to-day EMS care and health care at large-scale events and disasters,
Each State has a lead EMS agency with the primary responsibilities of
Overall planning of the EMS system
Coordination between all components of the EMS systems in the State
Regulating the EMS System under them, and
Licensing the local agencies and personnel
As the EMS System is evolving, an overlap between public safety and public health is inevitable.  The lead EMS agency has to play an active role so that quality and timely care is provided to all.
Show More
Course Content
EMR Initial | EMS Care Ch EMR- E01 | Emergency Medical Systems
Lesson 0 – Chapter Introduction

Lesson 1 – The Emergency Medical Services Systems

Lesson 2- Roles and Responsibilities of EMS Personnel

Lesson 3 – Professionalism of EMS Personnel

Lesson 4 – Continuous Quality Improvement

Lesson 5 – Patient Safety

Lesson 6 – Chapter Review

EMS Care EMR-E01 | Emergency Medical Systems | QUIZ